joel
This user hasn't shared any biographical information
Posts by joel
Drè Murray is is one of the funniest guys you'll ever see onstage or off. Joel and he met on 910 AM radio in Detroit and have become fast friends. Drè sits down on the podcast to talk his career, how he moved to Detroit from the East coast, his thoughts on the current comedy scene and much more. Drè has opinions on interracial dating, the current Dave Chappelle controversy, and why Shake Shack is overrated. Joel is pressured into doing a Jimmy Walker impression, shares his experience of accidentally pulling off girls' wigs, and explains why being an angry New Yorker is both a survival instinct and quite therapeutic. Also, the future of Detroit and the downtown vs neighborhoods fight, remembering the great Chuck Berry, and Drè's explanation of how Hillary Clinton was treated like a black woman. Plus, Joel sees the incredible Circus 1903 and you should, too.
[display_podcast]
Drè poses with his (partial) payment for doing the show
Joel welcomes old friend Mike Stanley for a sit-down interview discussing Mike's career. Highlights including sneaking into comedy clubs underage, starting at Joel's open mike, the big move to Chicago and the bigger move to L.A., recording your own comedy album, and the challenges and rewards of producing your own comedy show. Mike describes the rewards of commercial acting and how he was very close to being the voice of a national restaurant chain, until that chain decided not to be national. Also, Mike discusses how he was the last comedian to perform at a closing comedy and how the scumbag owners deceived himself and the staff – on New Year's Eve, no less! Plus, Joel and Mike talk diet and exercise – a foreign concept to most comedians, for sure. We'd plug Mike's Twitter, but he's banned for the dumbest and most righteous reason of all time. Instead, check out the Detroit Comedy Underground Facebook page, and look for Joel's debut at the show on April 9th, 2017!
[display_podcast]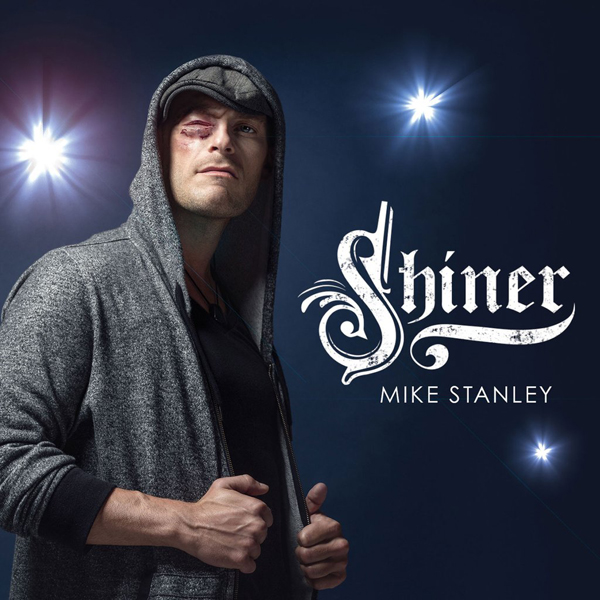 Mike's comedy album, Shiner……..
….and the picture from when Mike really injured himself jumping off the stage at Club Bart in 2005
After the debacle that was the 2017 Oscars, Joel does his annual movie review show telling you all the best films of 2016 that you might have missed and which Oscar picks were just plain wrong. He is joined in this by movie critic-at-large Corey Hall, who returns to the show for the first time in months. Corey liked Jimmy Kimmel's performance as the host of the Oscars, but wasn't surprised by the fossilized Warren Beatty's screw-up. Joel is more offended by Moonlight winning best Picture as he thought it was the worst of the nominated films. Hear both guys' list of best movies of the year and the worst of the year, too – now with more Melissa McCarthy! Plus, Crashing gets comedy right on HBO, and Comedy Central's Detroiters gets the references right, but the comedy wrong.
[display_podcast]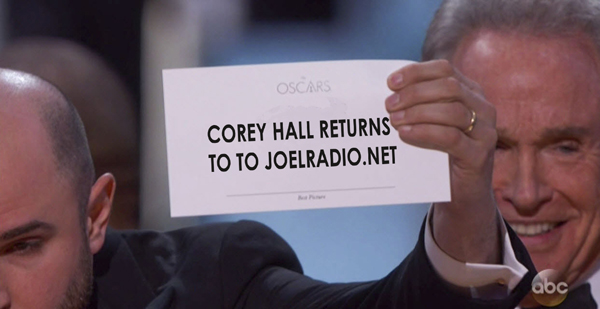 The Oscars isn't the only show with a big surprise
Joel Radio presents a contrast in comedy careers as Kevin Kramis, a veteran comedian, sports announcer and the former voice of the Michigan State Fair shares road stories and dispenses advice to Joel and Sophia Spagnuolo, a young comic with only a handful of shows and some improv experience under her belt. Kevin shares how he got started in the business, how he became the voice of the fair, and how comics are often stuck staying in the "comedy condo" or in the club owner's garage!  Sophia tells of her burning desire to do comedy and how she met Joel in the most Millennial way ever – on a podcast. It's a fun conversation that should inspire up-and-coming comedians and inspire others to never, ever even attempt a career in comedy. Also, Joel explains why Trump hysteria flies in the face of our system of government, why it seems like there's so much bad news today, and how American politics has turned into College Gameday. Plus, Joel gears up for the Oscars by watching the awful Martin Scorcese-directed Silence, the overrated Moonlight, the dull-as-dust Loving, and has half-dozen other depressing, no-fun movies to watch in the next month. This is a good, fun, long listen which should kill some time as you wait for your immigration papers to clear.
[display_podcast]
Sophia, Joel and Kevin sitting exactly as they did while recording the show
Joel welcomes "young" comedian, radio DJ and good guy Ed Hunter to the podcast. Ed and Joel have known each other for a while, but Ed's role in a major American historical event – the funeral of President John F. Kennedy is fascinating. Ed shares his story of being a precocious child and writing to the Army bugler that flubbed the playing of "Taps" at Arlington National Cemetery. That letter would become a memento of that sad occasion that would find Ed his fifteen minutes of fame some fifty years later. It's an amazing, uplifting story that is in stark contrast to the divisiveness in Washington today. Speaking of Washington, Judd Apatow has some wise and funny observations about Trump, the internet and the election that Joel found enlightening. Also, feedback to the last few podcasts, Joel says Jackie is a good watch for JFK history fans, and the terrifying Oscar-worthy PBS documentary Command and Control can be seen right now. Plus, La La Land and Lion are really good, the Carrie Fisher/Debbie Reynolds documentary is weird, and the new OJ documentary is OK, but last years OJ stuff was so, so much better.
[display_podcast]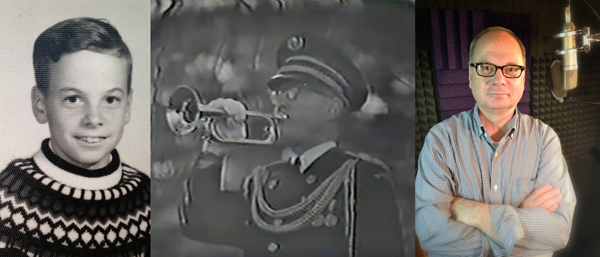 The young Ed Hunter, Army bugler Keith Clark, and Ed today (in much nicer studio than Joel's)
In a wacky podcasting experiment, Joel takes his field recorder down to the New Way Bar in Ferndale, Michigan for open mike night. The New Way is a notorious venue for attracting an audience and holding their attention – and it was the coldest night of 2016 – so what you'll hear on this show is perhaps not a typical night at the club, but a typical night isn't great either. Hear host Amit Jain's (abbreviated) opening set and hear how his controversial way of setting the tone is unique in comedy. Joel tries some new jokes, too. Those were OK, but he stumbles badly on the closer he's done hundreds of times making for an awkward landing. There's also appearances from Detroit area comics Tanner Oliver, Wes Ward, Paul Pipitone and Adam Hirzel. There's also before and after interviews with the guys. Hear their approach to such a weird show, what they get out of doing shows like this and Joel's opinion on getting loose at open mikes versus sticking to the script. Is it compelling podcasting? You be the judge. But it is a real, fly-on-the-wall visit to a show which on this night desperately needed an audience – and now it has one.
[display_podcast]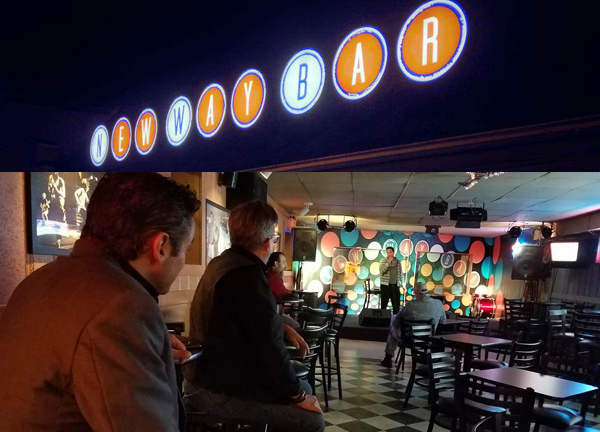 Amit Jain kicks off the New Way open mike to a packed house
Another year, another Star Wars movie – oh wait – that's never happened until now, with the release of of Rogue One: A Star Wars Story. Joel, comedian Josh Bowab, and comedienne Ellen Stachowicz (a girl with such nerd cred she's even written Star Wars fan-fiction) attended an opening night screening and sat down to do an immediate review. If you haven't seen it, it is spoiler-free for the first 20 minutes or so, just finish listening after you see it. And you should see it, as it's a very good, WWII-style action movie ala Bridge on The River Kwai. The guys discuss the fan-service cameos, the gritty, more realistic violence and if certain digital effects enhance or detract from the movie. We also hear how the screening was ruined by too much air-conditioning, and how Ellen managed to miss the first few minutes. Plus, hear how this film compares to The Force Awakens, their hopes for the future Star Wars films, and the wild theories about the true identity of Supreme Leader Snoke and if this movie sheds any light on it, and what the hell happened to Darth Vader's voice?
[display_podcast]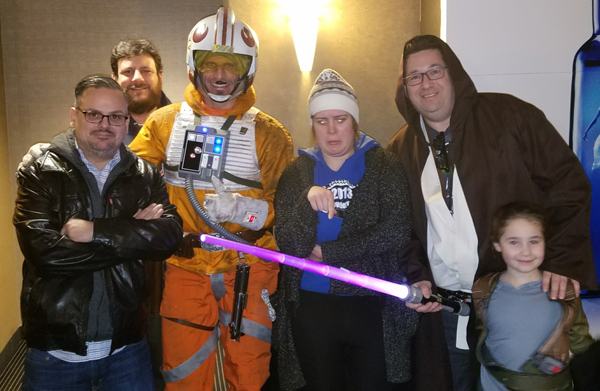 Joel, Josh, and Ellen – blinded by the lightsaber – meet some super fans after the movie
Joel has been teaching how to be better at stand-up comedy for some time now with his Advanced Comedy Class at Mark Ridley's Comedy Castle, and he welcomes two former students, Ted Moss and Steve Hansen on to discuss the class, how it has benefited their careers and all things comedy. Joel runs down the topics the class covers and gives tips on writing, performance, business, and other topics. The guys discuss the downsides of comedy contests, how not to get in to a bit, the best place to stand on stage, and why every comedian should run their own show. It's a funny, informative discussion with good insight for both comedians and comedy fans alike. Also, Joel takes you through his personal Xmas music playlist including some little-known gems and some awful, cringe-inducing selections that he's not embarrassed to like anyway. Plus, Joel tries to rationalize watching Warcraft, Tickled is a documentary that will make you uncomfortable, and Netflix launches two new series, a return of the Mythbusters on The White Rabbit Project, and the incredible, must-watch, documentary series, Captive.
The very funny Steve and Ted still glowing form their appearance on Joel Radio
After nine years away, Joel welcomes back Mac Kelly, aka TV horror host Wolfman Mac, to the show. Mac was just beginning his climb to national fame when he last appeared and now he's looking for his next move. Hear about how his show evolved to get national clearances, the financial challenges of doing a show yourself, and the risks and rewards of following your passion. Joel has some new ideas for Wolfman Mac going forward, details his own challenges with this podcast, and tries to find out what happened to Mac's other trade – commercial radio. It's a fun, frank discussion about chasing your dreams and the reality that inevitably catches up with them. Also, a big TV and movie round-up sees the Top Gear guys return on The Grand Tour, Joel gets Oscar-baited at Nocturnal Animals, Search Party isn't a good as Joel wants it to be, and Green Room is the most terrifying, must-see movie of the year. Plus, the new Oasis documentary takes Joel back to England in the summer of 1994. It's a good watch, but what happened to the drummer? Does anyone know where the drummer is? It's a baffling change to what was an almost authoritative, compelling film.
[display_podcast]
The updated Wolfman Mac, coming to a TV – or YouTube – near you
Joel proudly welcomes 20-year-old comedy sensation Sam Silverstein to the podcast. Sam was one of Joel's comedy students and the two remember Sams's first night at the Comedy Castle – a weird performance at a Jewish fundraiser – and chronicle his rise from a high-schooler on the open mikes, to his own charity fundraisers, to a paid booking at the same club he debuted at next year. Sam's a great example of hard-working rising talent in comedy and there's a lot of good advice for anyone in the same position on this show. Also, Joel's weight-loss hits an important milestone. Hear the details of the diet, the pros and cons of exercise, and why the BMI chart is bullshit but Joel's using it anyway. Plus, Joel's new radio gig, a gigantic rundown of TV and movies including The Arrival, Westworld, a documentary that will make you cry, Woody Allen's attempt at episodic televison, and where to see the wold's hottest actress naked.
[display_podcast]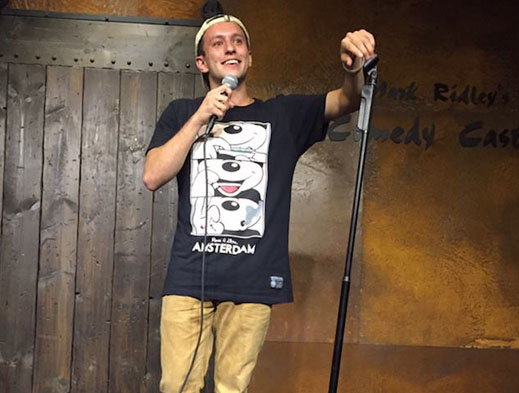 Sam is so happy on stage at The Comedy Castle