joel
This user hasn't shared any biographical information
Posts by joel
After nine years away, Joel welcomes back Mac Kelly, aka TV horror host Wolfman Mac, to the show. Mac was just beginning his climb to national fame when he last appeared and now he's looking for his next move. Hear about how his show evolved to get national clearances, the financial challenges of doing a show yourself, and the risks and rewards of following your passion. Joel has some new ideas for Wolfman Mac going forward, details his own challenges with this podcast, and tries to find out what happened to Mac's other trade – commercial radio. It's a fun, frank discussion about chasing your dreams and the reality that inevitably catches up with them. Also, a big TV and movie round-up sees the Top Gear guys return on The Grand Tour, Joel gets Oscar-baited at Nocturnal Animals, Search Party isn't a good as Joel wants it to be, and Green Room is the most terrifying, must-see movie of the year. Plus, the new Oasis documentary takes Joel back to England in the summer of 1994. It's a good watch, but what happened to the drummer? Does anyone know where the drummer is? It's a baffling change to what was an almost authoritative, compelling film.
[display_podcast]
The updated Wolfman Mac, coming to a TV – or YouTube – near you
Joel proudly welcomes 20-year-old comedy sensation Sam Silverstein to the podcast. Sam was one of Joel's comedy students and the two remember Sams's first night at the Comedy Castle – a weird performance at a Jewish fundraiser – and chronicle his rise from a high-schooler on the open mikes, to his own charity fundraisers, to a paid booking at the same club he debuted at next year. Sam's a great example of hard-working rising talent in comedy and there's a lot of good advice for anyone in the same position on this show. Also, Joel's weight-loss hits an important milestone. Hear the details of the diet, the pros and cons of exercise, and why the BMI chart is bullshit but Joel's using it anyway. Plus, Joel's new radio gig, a gigantic rundown of TV and movies including The Arrival, Westworld, a documentary that will make you cry, Woody Allen's attempt at episodic televison, and where to see the wold's hottest actress naked.
[display_podcast]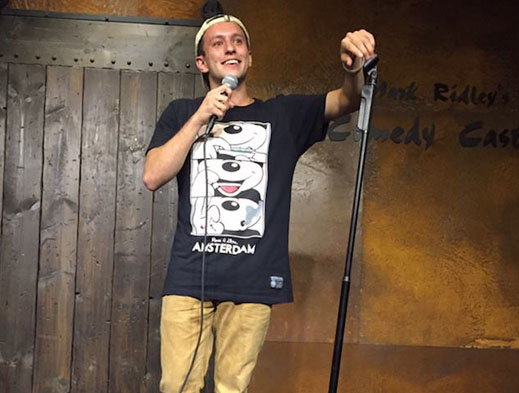 Sam is so happy on stage at The Comedy Castle
Joel returns from a week-long trip to the East Coast, with stops at the Flight 93 Memorial, the Jersey Shore, Providence, Niagara Falls and attending two epic Bruce Springsteen shows in Pittsburgh and Boston. Joel shares his memories of the trip, the challenge of losing weight while on it, and the rigorous travel schedule, but Corey Hall isn't impressed. In fact, that's a theme for the show that Corey isn't impressed with anything Joel likes or cares about. This comes to head as Joel reviews the excellent, insightful CBS investigation of the JonBenet Ramsey killing which Corey mocks as some prurient interest of Joel's and not a genuine review of the show. This disagreement continues from there, and if you're a long-time fan you see where this is going. Also on the show, Joel watches the Corey Feldman musical performance for the first time, the new Beatles doc gets a review, Corey rates son of Zorn and Sully, and a full Emmy review with the winners and losers revealed. Plus, Joel is buying tickets to see Eddie Murphy, journalist Steve Miller recounts his time on Joel Radio, a studio power update, and Branson, Missouri has the best line-up of shows you'll never, ever want to see.
[display_podcast]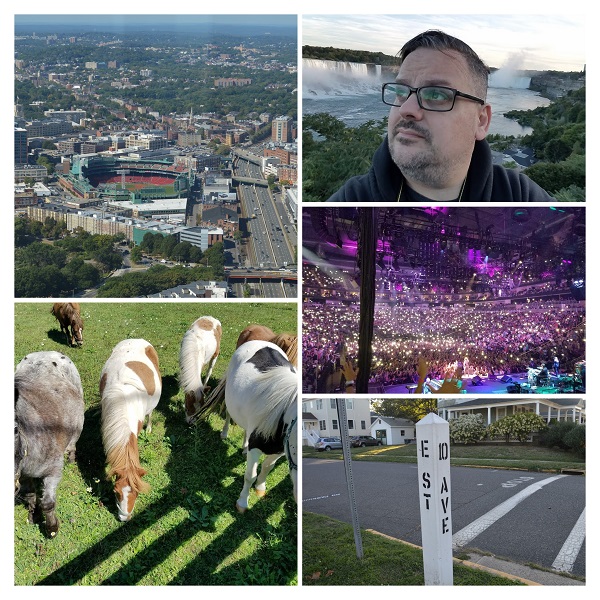 Enjoy this collage of photos from Joel's trip – if you're not Corey
This week, Joel has his results in a no-kidding, completely serious investigation to the identity of super-secretive graffiti artist Banksy. Yes, there was an article recently about how Banksy may be a member of Massive Attack, but Joel has taken that line of thinking even farther, finding oodles of evidence in the form of audio clips, photographs, internet videos and geographic and historical timelines that he believes confirms Banksy's real identity once and for all. Corey Hall sits in this week, and while generally dismissive of most of Joel's efforts, even he is impressed with the detective work shown here. The Banksy stuff is the last half hour or so of the show, and we're not sure that the work Joel has put in here won't get the world talking. Also, the numbers get crunched on sex at the Olympics, while nerds continue to claim that comic book conventions are now orgies. Plus, Gene Wilder fondly remembered, Joel's public access TV interview airs (send him feedback!), Anthony Wiener and the bizarre/incredible documentary about him, Corey finishes Stranger Things, and, for the love of god, please stop talking about limited edition Oreos.
[display_podcast]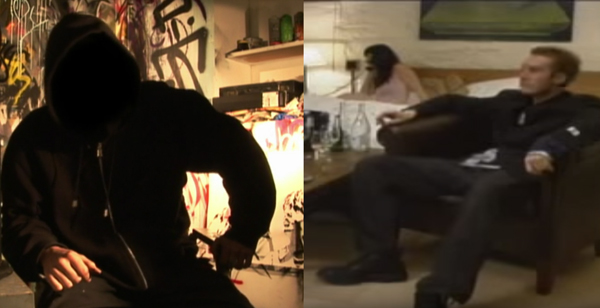 This image is just one of piece of the Banksy/Del Naja connection that Joel has put together

The above image demonstrates the Blur/Banksy/Del Naja/2003 connection as described on the show – click the image for the full version
The Olympic Games in Rio have mercifully wrapped, and Joel and Corey Hall have seen enough. Joel really didn't watch any save for one Usain Bolt race, and Corey tried but couldn't find the Judo. And with moron douches like Ryan Lochte in the games, it seems like the right amount. The guys discuss the chaos that Lochte caused in Rio, the amount of condoms distributed to the athletes and why Joel finds the estimated amount of sex going on in the Olympic village to be  highly exaggerated. Corey disagrees saying, unbelievably, that even places like Comic Cons are hotbeds of wild sexual activity. It's spirited argument, and nobody really wins but you'll enjoy listening. Also, Larry Wilmore's show gets cancelled, Sausage Party is a good time says Joel, and why Corey is sticking with the iPhone no matter what. Plus, goodbye to Kenny Baker and John Saunders, the 90s old man sitcom remembered, nighttime in Detroit is captured in a wild video, and Corey sees Suicide Squad so you don't have to.
[display_podcast]
Corey Hall returns on this show, which is good for two reasons: one, it's Corey and two, it's not Harry again. Joel explains the last show and why it's not available anymore on the site, and how he hopes that won't be the case permanently, even though this was the case one other time. This current show, though has Joel and Corey playing along with the new Match Game, even though it's not it's cracked up to be. The guys listen to a lot of bad questions and worse answers and they investigate why modern TV can't do game shows as good as they used to. Also, Stranger Things gets a full review (and breakdown of influences) from Joel, Corey enjoyed but can't remember the new Star Trek, and neither one of them has Olympic fever, but Corey will still watch some Judo – if they'll show it. Plus, more on the great Vice Principals, the difference between an enthusiast book and a mass-market one, and why Hollywood's wacky beauty standards have made girls that Joel and Corey would kill for the "ugly friend".
[display_podcast]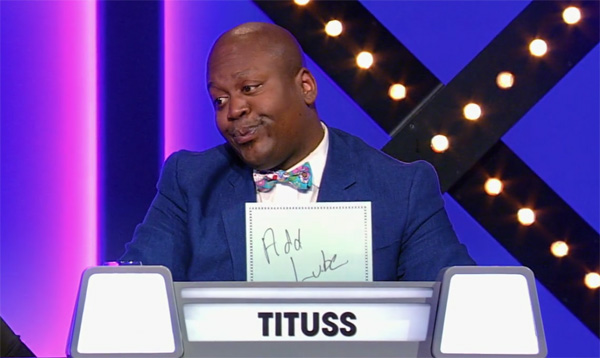 This is a terrible answer but very good advice in case you want to enjoy the new Match Game
Last year Joel interviewed author Steve Miller and it was the most popular show in the podcast's history. Now, Steve is back with the release of his new book, Juggalo: Insane Clown Posse and The World They Made, a thoroughly researched history of the band, its fans and the misconceptions the world has about them. Steve 's book skewers the FBI report that labeled Juggalos as gang, talking to the the lawyers on both sides and the young people who were harassed and punished as a result of their fandom. Joel discusses his own experiences in working for ICP, why the media usually gets Juggalos wrong, and why this book is one of the few journalistic efforts that gets it right. Joel however is somewhat miffed about his pretentious photo credit, a goof in an email that made it to print. Also, find out why Faygo went on record with Steve, the real tax dollar costs of the government's Juggalo investigations, and get a journalist's description of the Joel Radio studio – it's not pretty.
[display_podcast]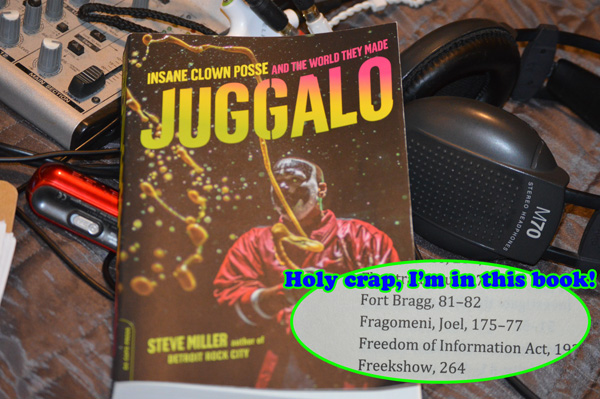 While many maligned the making of a new Ghostbusters movie with an all-female cast, Joel Radio was optimistic. The optimism ended today, but not with a roar, instead in a dead silent movie theater on the opening night of the film. Joel is joined in this review by real-life ghostbuster, John Tenney, who was intrigued by the "real-world" paranormal elements in the film more than 80s nostalgia. The guys break down why this film doesn't work, why too many elements of the 1984 classic weigh it down, and the changes that could've made to make this a much better film. They also discuss the "ghost film" as a comedy trope that's been done for years and how the Bill Murray/Harold Ramis team was really the 1980s version of Abbot and Costello. There's some minor spoilers, too, including the insufferable cameos, the post-credits stinger, and the description of the ending's ultimate monster. But trust us when we say that it won't ruin the movie – it might just save you from seeing it. Plus, a look at the other summer movies from 1984 including the movie that opened the same day and is actually better than the original Ghostbusters.
[display_podcast]
This image says it all
This show is a bit of a mess, but you might win free concert tickets! Joel Radio has officially become morning radio now, but Joel was gifted free concert tickets via a Ticketmaster class action lawsuit and none of the free shows are anywhere near his home. Listen to this ninety minutes of ridiculousness and let Joel know if you want tickets to any of the shows listed here. Also, America's Got Talent has gifted us with another kid comedian. It's not as bad as last time, but it's still not good. Plus, O.J. Made in America is a must-watch, the Chewbacca Mom's fifteen minutes of fame is running out, gravity kills a Star Trek cast member and mother nature ruins Joel's sit-down TV interview – but find out how you can be part of the next one.
[display_podcast]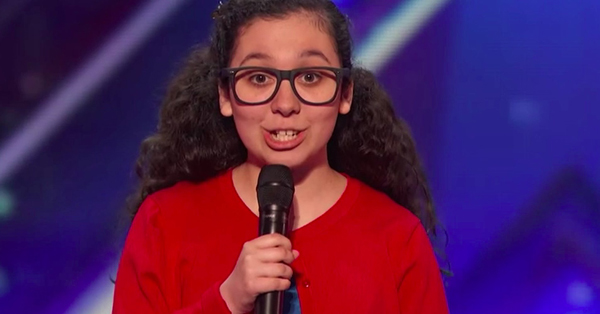 If 13-year-old comedians wearing fake glasses are the future of show business, we'll happily live in the past
There's been a lot of eulogies of famous celebrities on the podcast this year – David Bowie, George Martin, Prince – but it's time to do another, as Joel and Corey Hall remember one of the greatest fighters and most entertaining sports stars ever, Muhammad Ali. They reminisce about his comic book appearances, his pro wrestling-style interviews and his various attempts to act and sing. Find out about the many great Ali documentaries and why you should avoid the Will Smith-starred biopic. Also, a 6-year-old comedian makes for an adorable hack on America's Got Talent, Melissa McCarthy's The Boss is one of the worst movies of the year, and find out the one cheap piece of tech that will make your podcast listening that much better. Plus, as predicted, the Chewbacca mask mom cashes in, the new Top Gear gets reviewed, Mama June hits the strip club circuit, and the not only the best fighter ever, but one of the worst died, too – RIP Kimbo Slice. Hear about his  last fight – probably the worst MMA fight of all time.
[display_podcast]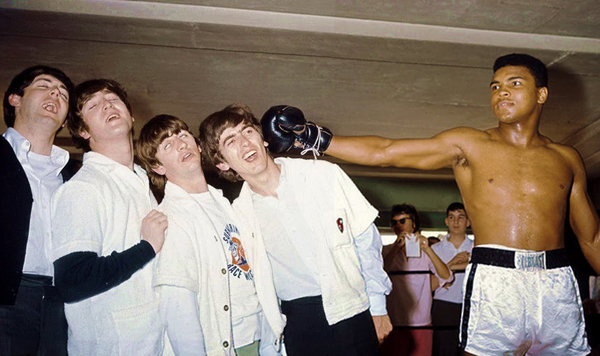 The Greatest gives a punch to, erm, the greatest in 1964