joel
This user hasn't shared any biographical information
Posts by joel
Jerry Seinfeld is the the nicest guy in comedy – unless you're Bobcat Goldthwait, maybe. Joel and Corey Hall do an investigation into the comic with the weird voice that Seinfeld hates per his new episode of Comedians in Cars Getting Coffee on Netflix. The named is bleeped out, but hear the reasons the guys think Jerry hates Bobcat and why he's still angry even though Bobcat is successful and talented to this day. It's weird comedy politics at play and an insight into showbiz jealousy and ego that Joel and Corey can relate to. Also, Jerry gets coffee with Eddie Murphy and it's not that great. Nothing with Eddie is great anymore! Plus, comedians vs rap fans, Police Academy memories galore, which Murray brother is which, reviews of Pen15 on Hulu, the new, awful Lion King movie and Corey says The Farewell is a great film – even with Awkwafina.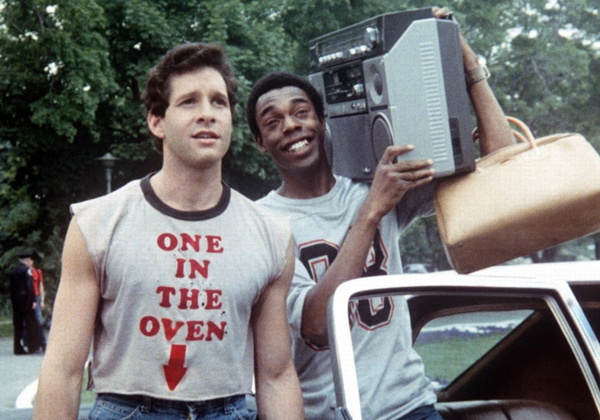 An early picture of Seinfeld and Eddie Murphy getting coffee
This podcast had an orderly way of proceeding that was planned and prepared by Joel for your listening pleasure. Then Corey Hall decided to take a trip down podcasting memory lane and it went all wrong. The guys discuss the "old days" of podcasting in 2005, why some guys were more successful than others and Corey's ideas for monetizing this show. Would you donate $5 to get some exclusive stuff from the guys? Let us know in the comments. Also, Joel went to an open mike with a decibel meter installed and it was a riot. How loud is not funny? Apparently any volume that night. Plus, gift shopping for Gilbert Gottfried, Corey eats an impossible burrito, Mad Magazine says goodbye, reviews of Stranger Things, Spider-Man: Far From Home, Aladdin, Euphoria on HBO and a full rundown of the Beatles-infused, sci-fi romance Yesterday. Includes a two-minute spoilercast ending, too!
Joel is blown away by the response of the last episode and has some updates on the whole Roseanne Barr fiasco. Hear about his resistance to go national with the story and how his radio home in Detroit has picked up on the story. He's joined by Corey Hall and Bill Hildebrandt, the latter back from a comedian's picnic that the other guys didn't attend. Why do the "young" comics not hang out with the "old" ones? Why are there open mikes on weekend nights and why do veteran comics not like that? Those important questions get answered on this show. Also, one of the two Amazing Johnathan documentaries gets screened – maybe this wasn't the "good" one? Plus, Corey's sushi date, Swamp Thing gets cancelled, Joel tells you the best thing he's watched all year, Dead To Me is for girls, reviews of Rocketman and Dark Phoenix, too.
Too many clubs. Even on the weekend. Don't be that guy.
Joel was plugging his big gig last week, but a funny thing happened on the way to the Fox Theater – he was fired on the day of the show by headliner Roseanne Barr. The reason given? This podcast! Joel and Corey Hall recount what they said about Roseanne on previous shows, which was as fair as anything in mainstream media, and wonder if the ridiculous image of Trump on an older show is what got him fired. It's a ridiculous story about show business, media and the culture war of 2019 and yeah, it's personal now. Joining in the Roseanne hate is comedian Dave Landau who was removed not once, but twice from NBC's Last Comic Standing because Roseanne has a thin skin. Dave calls in to tell his tale and gives updates on his rising career. Plus, Corey works with The Amazing Johnathan, All in The Family goes live, the last Game of Thrones puts Jon Snow in rehab, Barry is still great, and is Booksmart is just a woke version of Blockers or is Joel out of touch?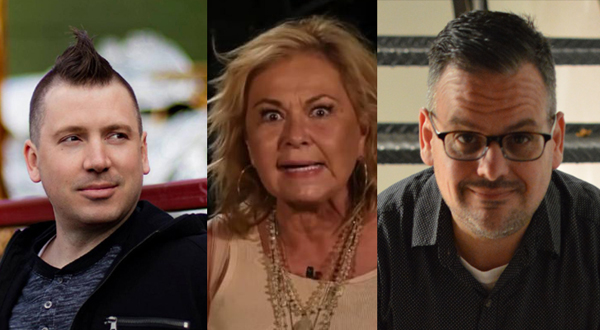 Dave Landau, Roseanne Barr and Joel. One of them looks completely insane
Joel and Corey Hall have some big shows coming up as Corey appears with The Amazing Johnathan, and Joel opens for Roseanne Barr. Hear about Joel's preparations and the wacky open mikes he's doing to get ready for this big show. He also considers the controversy around Roseanne, takes advice from other comics and thinks it's ultimately a good opportunity. Is he right? Listen to find out. Also, the usually funny Nick DiPaolo is controversial for something really dumb but the guys aren't surprised. Plus, Chewbacca actor Peter Mahew dies, The Act on Hulu brings back the 90's hottest actresses as frumpy moms, Long Shot is better than you'd think, more Avengers fallout, and The Dark Side of the Ring is the true crime take on wrestling that you've been waiting for.
Chewie gets his paws on Leia. RIP Peter Mayhew
Joel and Corey Hall review Avengers: Endgame on its opening weekend. Don't worry, there's no spoilers – right away anyway – so feel free to start listening and finish after you've seen the film. Joel has always been skeptical of Marvel's film output, while Corey is a comics fanboy and yet, they mostly agree about this one. Don't worry, there's more arguments in future episodes! Read Corey Hall's written review here, too.
Comedian Jeff Horste joins Joel and Corey Hall on this show to discuss his move to L.A., working with Kevin Hart, going viral on the internet, and if he's attending Nipsey Hussle's funeral. The guys look back at Jeff's comedy career start at Club Bart and the unique way Joel (the host) encouraged comics to get off the stage – no lights necessary. Also, Joel does New York City, seeing Adam Driver on Broadway, watching pro wrestling at Madison Square Garden, and seeing a unique and wonderful magic show. Find if Star Wars co-stars Driver and Keri Russell got naked on stage and find out which one inadvertently spit on Joel! Plus, who sat where on the Match Game, Corey likes Shazam, The Inventor documentary is weird (as is the lady!) and Joel produces a new podcast.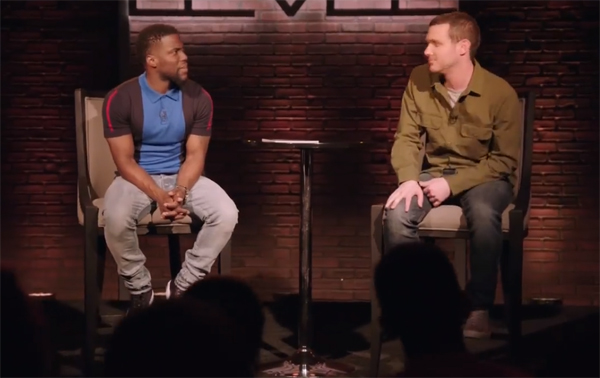 Kevin Hart talking to Jeff Horste. It was a short interview!
Joel explains why there was no podcasts for the last month. Turns out the surgery he forgot to disclose was way harder for him to recover from than he thought. Hear Joel's tale of woe, the complications he's suffered, how the anesthesia nurse was comedy club stage jumper, and all the embarrassing details on this show. Joel is joined by comedians Corey Hall and Bill Hildebrandt this week and hot topic of non-comedians being booked at comedy clubs is discussed. Is it smart business or an insult to our "art"? Should an unknown, but really funny comedian get bookings over a humorless celeb like Dustin Diamond or Ron Jeremy? The guys discuss the unfunny celebrities they've worked with and why it's not always the worst decision to use them. Plus, Corey likes Dumbo more than Us, Captain Marvel isn't that marvelous, Joel thinks Ricky Gervias is great again on After Life, and America's new past-time – watching Finding Neverland and arguing with those who have never see it.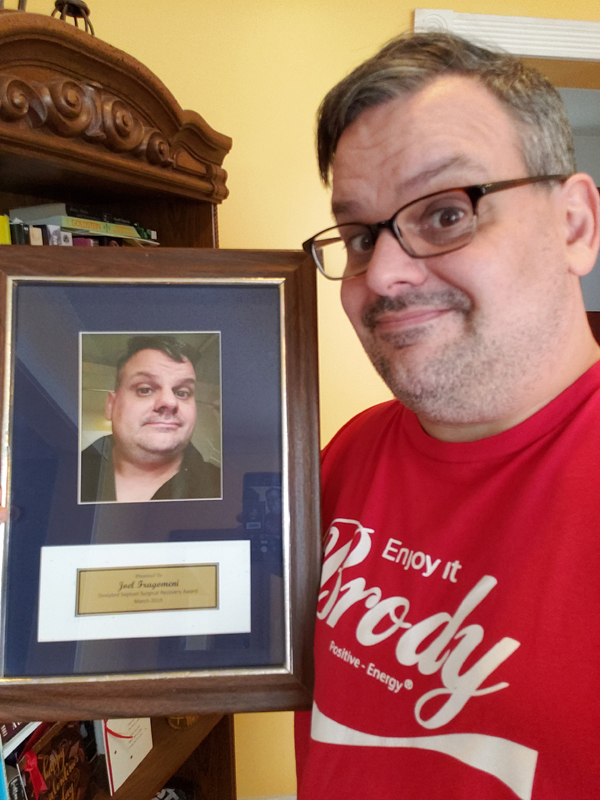 Joel proudly accepts his gag award for surviving surgery and thanks the Joel Radio listeners
Another year, another million or so movies watched by Joel and Corey Hall to make this podcast. You'll hear each guy's list of the best movies of 2018, find out what the worst of the year were, too, plus get their thoughts on what will and what should win at The Oscars. Find out which one super hero movie made the list, why the Rotten Tomatoes scores don't always work, and why Melissa McCarthy is on the best and worst movies list. Also find out about the film destined to be a cult classic, why Bohemian Rhapsody isn't very good, and why not to take your girlfriend rock climbing. The producers of this podcast would like to apologize in advance for a lack fighting on this episode. They promise to try harder on Movie Mania 2020.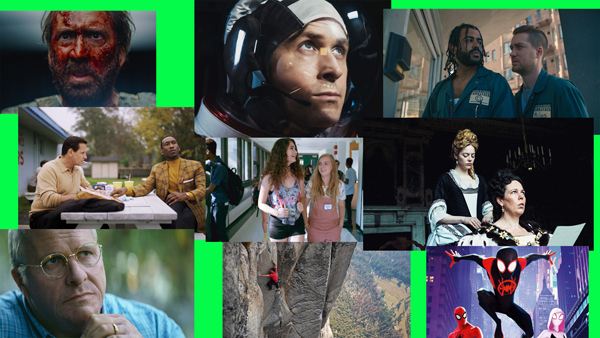 The movies of 2018!
It's said that Super Bowl Sunday is a snapshot of America. If that's the case, America is a weird, vapid, uninteresting place. Joel and Corey Hall review the game, the commercials and the halftime show – all three elements were equally dull! Then guys also get a call from comedian Sal Demilio to discuss the betting implications of a low-scoring game and how his dream job is, still, to open for Frank Sinatra. Also, Eddie Murphy made so much homophobic comedy in his career Joel can't keep it straight. Hear the awful examples of what he was up to and why, it seems, no one is outraged today. Plus, True Detective is good and Corey doesn't care, why comedians hate FuckJerry, the Starbucks CEO runs for president, and Liam Neeson has a particular set of possibly racist skills.
The actual first track of Eddie Murphy's debut comedy (not to be confused with the similar name of the first track of his second album)