joel
This user hasn't shared any biographical information
Posts by joel
Comedian Ted Moss returns to sit in with Joel and tells him everything he knows about comedy. Unfortunately, much of what what Ted has to say is wrong, at least according to Joel. When should comedians introduce new material to their act? How should you approach an open mike at a club versus one at a bar? It's a spirited debate where there are no right or wrong answers, with the only possible conclusion being that both guys are sure the other is wrong. Also, Jon Lovitz and TJ Miller perform at the Comedy Castle and Joel has reports on both shows. Turns out, people enjoy seeing celebrities. Who knew? Plus, Ted's internet dating history is a comedy of errors (hear Joel's way more limited experiences too), early Oscar contenders A Star is Born and First Man get reviewed, and you'll find what happened to Corey on this show but it's not much of a surprise if you've been paying attention for the last thirteen years.

Podcast: Play in new window | Download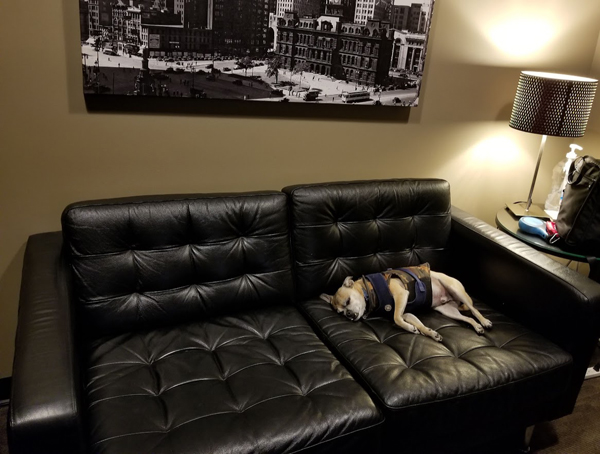 You've made it in show business when the dog gets the green room to himself
This show is all over the place. In a good way, though, as Corey Hall returns to talk about Chevy Chase's public meltdown, Judge Kavanaugh fighting over UB40, Russian bots hacking Star Wars and more nonsense. Joel recounts how he shot a Hallmark movie with Kellie Martin, even though he's never seen it, and how Netflix movies are barely better than the ones with 80s actresses solving mysteries on cable. Netflix's Like Father is a recent, awful example of this. Plus, Norm Macdonald gets a show, pumpkin spice treats that are actually good, Maniac on Netflix is interesting and worth a look, and Watts Club Mozambique – a legendary Detroit haunt and Joel's connection to it.

Podcast: Play in new window | Download
Really. It's $30 on Amazon, though.
Joel Radio welcomes comedian Ted Moss back to the podcast. Ted was previously heard on his Broke N' Road Comedy Tour and he's back to discuss the successes and failures of that tour, what the comedy scene is like in other towns, what it's like to sleep in an RV with another guy and more nonsense. The guys discuss comedy classes becoming real-life arguments, Joel's guitar inspiration, and what happened when Ted tried to give Joel a "free" piano. Ted's a nut and he can bullshit with the best of them – he's perfect for this show. Also, Joel talks about seeing Ed Sheeran in concert, but he doesn't talk as much as Ed did at the concert. How much chatter is too much? Hear Joel's Springsteen impression for a comparison. Plus, Burt Reynolds dies and leaves a legacy of beer, blondes and sports cars, John Mayer gets spotted in Chicago,  Jack Ryan is more entertaining, implausible Tom Clancy bullshit , but Joel will tell you when his BS became real. And a movie review of A Simple Favor – shoulda been called "Gone (Again) Girl".

Podcast: Play in new window | Download
Yes, Ariel Winter, old Burt Reynolds skeeves us out, too
Joel Radio returns with news of comedians getting fired, as Michelle Wolf and Joel McHale lost their shows on Netflix. Joel (Fragomeni) explains why basic cable stars don't translate to an on-demand service and why late-night TV died with the loss of Leno and Letterman. Corey Hall thinks Trevor Noah was a bad hire, too and feels like that genre is losing its punch overall. Two comics criticize those richer and more famous than them – what a show! Also, Joel visits Niagara Falls and drives the amazing Niagara Speedway while eating ice cream with white trash of all colors and trying not to get eaten by a tiger at a magic show – what a trip! Plus, Sharp Objects ends and Corey can tell you it sucked without seeing it (it didn't), Magic for Humans is really great, Matt Groening's Disenchantment is better than it should be, and The Package is the dumbest thing ever. RIP Aretha and McCain  – we never met and wouldn't have liked you if we did.

Podcast: Play in new window | Download
America needs to make its Kit Kats great again
Joel survives a credit card calamity and a water main break to bring you this show where he and Corey Hall discuss a new Academy Award for "popular picture".  This seems redundant at best and idiotic at worst. Is this just a way to award Black Panther but not really award Black Panther? The guys discuss all the possibilities, including how the Tonys handle stuff like this, how to make the show move faster and other things they maybe don't care about but can talk about for days. Like which Designing Woman cast member would have liked to sleep with? It's a 1980s TV and movie rabbit-hole involving Meshach Taylor, Meatballs sequels, The Facts of Life cast and an obscure actress from Major Dad. Get your image search ready! Plus, Corey gets a new Oreo flavor for his birthday, Eighth Grade gets reviewed again and doesn't do as well, the movie Tully almost works completely except for the last three minutes, and what if people showed up to vote and there were no ballots? What would you do? Call Corey!

Podcast: Play in new window | Download
Which woman would you most like to design with? Choose wisely guys, choose wisely.
Do comedians regret their comedy bits? Sure. Sometimes. That is the finding of a New York Magazine article and that sentiment is shared by Joel and Corey Hall on this show. Not that the hosts object to what they've done on moral grounds – Joel just thinks it hurts the show sometimes. Hear what the famous comics had to say, Joel and Corey share the jokes they've dropped over the years, and why they think the PC culture of today makes so many subjects taboo. Also, gives a brief Juggalo Gathering report including the mainstream movie featuring ICP and the surprise star, Clownvis Presley. Plus, Every Day is one of the worst movies ever says Joel, the new Mission Impossible is more of the same, Corey's "woke" movie minute, and Joel says Sharp Objects is must-see TV and HBO's Succession is a unwatchable heap that all the cool kids like.

Podcast: Play in new window | Download
Every Day was a terrible movie. Needs more Juggalos
Comedian Bill Hildebrandt has been a frequent guest over the years on this show, and he returns to plug his upcoming shows at Mark Ridley's Comedy Castle this weekend. Bill thinks it's his last headlining appearance at the club, but he's thought that before. Joel asks him about his start in comedy, his past life as a recording engineer, the future of stand-up comedy, and the rise of political correctness in comedy. Plus you'll hear the history of the mellotron, a funny Trump joke, what it's like to play in a band and much more. This is a good, insightful, entertaining interview with a guy who Joel considers his mentor in comedy, so give it a listen.

Podcast: Play in new window | Download
Bill where he belongs – on the Comedy Castle stage. Joel took this photo!
Joel hasn't always enjoyed the Marvel Cinematic Universe, but he still goes to the movies and the most recent one, Ant-Man and The Wasp, was OK. But making people wait for the post-credit sequences has become a frustrating, ridiculous ritual that should probably end. Joel and Corey Hall review the new film, discuss the "stinger" phenomenon and why the last scene in Ant-Man was an absolute waste of time for everyone. And yes, you'll have to wait for the end of the show for this discussion – it's better than an ant playing drums! Also, comedian Bill Bushart calls in to promote his TV project, shares tales of travelling to Amsterdam, and promotes his comedy classes. Plus, GLOW returns to Netflix and it's a bore, Joel tells you of a fantastic "real" wrestling show that you should watch, pinball in the digital age frustrates Corey, and the comedy special that everyone's talking about except Joel who won't watch comedy specials. The guys also have reviews of The Staircase, Wild Wild Country and Derren Brown's Miracles for your Netflix binging needs.

Podcast: Play in new window | Download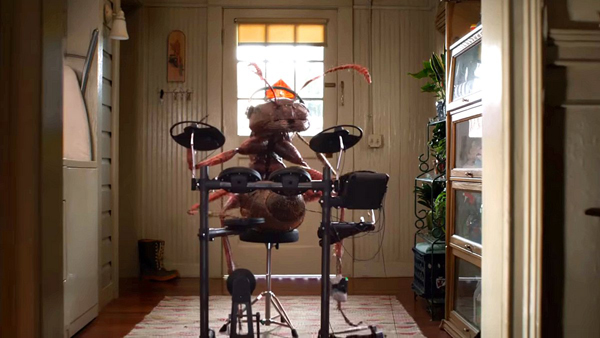 This is the "stinger" from Ant-Man and The Wasp. It's stupid, lame, not funny, and not worth waiting for. It's in the trailer, too, so it's not a spoiler! FU Marvel!
This podcast is known for going off on tangents and taking forever to get to the point, but when comedian Tom McCarthy sat in with Joel and Corey for this week's show, he had no idea what he was in for. Tom has been a staple of the Detroit comedy scene for fifteen years or so and arrives to promote a TV pilot he's shooting soon. It involves a lot of local comics and Joel gives his not-so-serious impressions of the talent involved (including many of his former students) — and Corey Hall. Eventually, the guys shut up long enough to let Tom tell the "green room" story which begins a tangent about how open mike shows should run, the skills needed to emcee and Joel thinks most show producers get it wrong. Tom's a good guy, a funny comic and a great guest on this show. Also, another pro wrestling superstar dies and at least Joel had the honor of sharing the dressing room and being nearly injured by the legendary brute. Plus, reviews of Incredibles 2, Tag, and Jurassic World: Fallen Kingdom. Want to find a better actor than Hannibal Buress? Simply Google any human being who has ever lived or just look in the mirror.

Podcast: Play in new window | Download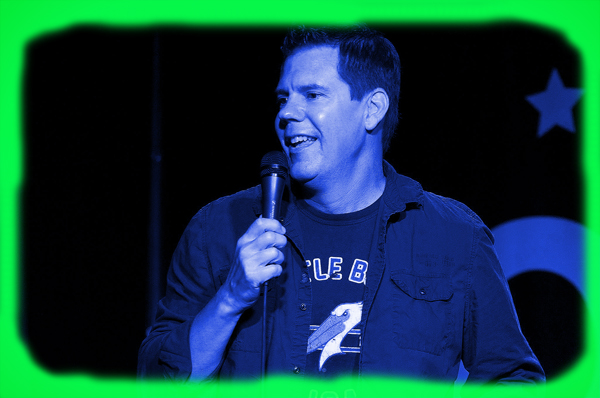 Tom McCarthy is really good at comedy and Joel is quite middling at Photoshop
The world seems crazier than ever, as Trump meets a Korean dictator, IHOp changes its name, Anthony Bourdain dies, and the NBA is the most important thing in the world – to some people. Stuff got weird this week. Really weird. Also, Corey Hall meets a big celebrity in Detroit, but it wasn't a great encounter – find out who he met and why he wasn't a nice man on this show. Plus, Star Wars nerds are mean, Roseanne goes nuts, as does Lisa Lampanelli, HBO's Barry was fantastic, and movie reviews of Deadpool 2, A Quiet Place and Herdeitary. The big takeaway from this show – Guy Fieri is an asshat who will outlive us all.

Podcast: Play in new window | Download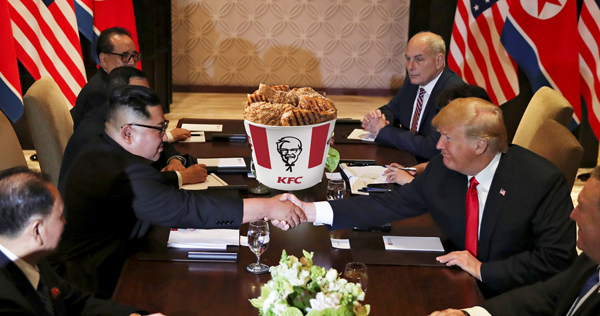 The Joel Radio cameras were a witness to history